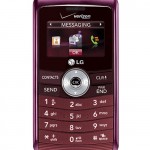 I upgraded my mobile device yesterday (relative to when I started this post on June 10th) from the LG VX8600 (Chocolate2 Flip) to the brand new enV3 (VX9200). I've already seen a few reviews out there, however it seems most, if not all have reviewed the slate blue, and not the maroon (red). I actually got the maroon version by mistake, however I actually like it, probably more than I would've the blue version. Let me tell you this is a great mobile device! I say mobile device because phone just doesn't cut it. It is packed with features, yet isn't so complicated to make usage difficult. Video below, or you can read the text version after the jump.

I've been up for my new every two with Verizon since April and have been looking at phones ever since, although wasn't quite ready to replace my Chocolate2, plus I wanted to find a phone that suit me best. I like a sleek, compact design that is very functional. I love my Chocolate2 for it's thin size, external screen (where I can read text messages), and ease of use. I knew when I got a replacement, I'd probably get an LG. I'm a huge fan after switching from Motorola about 2 years ago.
The enV3 has a pretty decent size external display that is 10x more functional than the Chocolate2. Not only can I read text messages, but I can browse contacts (even add contacts), send messages, view call history, see my photos, and adjust bluetooth settings. The external keypad makes this phone extremely exceptional and a very easy transition from the Chocolate2 to a QWERTY phone. I actually find myself going back and forth to send text messages, depending on the length of my message.
So here are some things you've probably heard
2.6″ Internal Display, 1.56″ External Display
Full QWERTY Keyboard
3.0 Megapixel Camera & Camcorder with Flash
Full HTML Web Browser (with Javascript)
Up to 16GB microSD Memory Slot
Battery Life:

Usage Time: 327 Minutes (approx. 5.5 hours)
Standby Time: 460 Hours (approx. 19 days)
Things you may not have already heard
Watch YouTube videos, browse Facebook and Twitter, and other standard web activities.
Photo manipulation including, rotate, zoom, crop and more
Support for Visual Voicemail
Voice Readout for text messages
Threaded Message View
Camera Panorama Mode (5 guided shots in a row for wide area view)
Contacts Favorites (with dedicated key)
I mainly wanted to focus on some of the things left off in other reviews. Firstly, the Maroon phone, although it may look "pinkish" in the photos, it's actually Maroon. It's almost a crimson color, so don't be afraid of it's color. I don't think LG was going for "his and hers" versions. The phone comes with a multi-purpose charging cable, which doubles as a USB device cable. The data/charge port is on the bottom and is MicroUSB, which may or may not be the standard mobile phone charging port.
The back of the phone has a nice rubber-like grip feel to it, making it easy to hold, as well as cutting back on a whole lot of ugly smudging and some of the fancier glossy phones.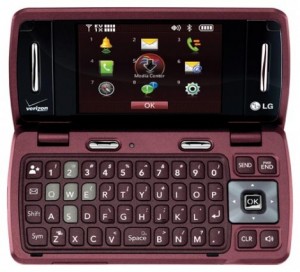 One review I saw mentioned how distracting the 2,Q,W,E, and S keys were (optional directional gaming keys), however it seems to be only a major problem on the Blue Slate version. The Maroon keys only stand out slightly and are not a distraction (photo on right does not accurately depict gray colored keys; in reality they're a bit darker). I believe it was the same review that mentioned there was no zoom buttons available on the web browser, without going into a special Zoom menu, however if the reviewer had played with the phone for more than 5 minutes, they would have found out that the browser will zoom in/out with the Volume up/down keys located on the side of the phone. Additionally, the reviewer mentioned the browser navigation was a bit slow/choppy, unresponsive to up/down commands to scroll. I'm not sure if this is something LG has fixed after his review, but scrolling on mine is excellent and smooth. It also doesn't pool scroll commands when they don't execute, so you don't get that rapid 50 zooms in a row after it completes whatever process it's doing.
The external directional keys function like shortcut keys, however can be easily overlooked with the functionality of the OK (menu) key. You can quickly access Music (up), Photos (left), Bluetooth (right), and Messaging (down) with these keys. Lastly, I just want to say the keyboard is phenomenal. I consider myself to have large fingers and would go crazy with a keyboard where the keys were too tiny for me to use. I actually tested many of the QWERTY (why do I always want to type a U after the Q…) keyboard designs, and this one is very easy to type on.
I only have just a few gripes, but nothing too bad
The camera button only serves camera functionality. On my VX8600, I could press the camera button again to switch to camcorder mode, however on the VX9200 you must go to Pictures and Video > Record Video to access the camcorder function.
When taking pictures, your photo subject must be fairly still. So far I've gotten quite a few blurry photos from the camera, although I must say, the flash helps a lot with clarity. The manual simply says "Avoid jolting the camera." and cleverly enough "Do not cover the lens with your finger."
The way the phone is designed makes it a bit difficult to wipe the internal screen with a t-shirt or cloth due need to access the side buttons while the phone is open. Not sure of a better way to have done this, but I typically will rub the phone on my shirt or pants leg to clear any smudges off the screen, as do a lot of people from what I've seen.
Even though they crammed a whole lot more keys into the internal keypad than the average phone, I feel maybe the layout didn't "click" with me right off. I feel like the clear/speakerphone keys and send/end key should be swapped, putting clear closer to where the backspace key should be, and end key at bottom right, where i typically look to escape or back out of stuff. I don't know maybe it's just me, maybe I just need to get used to, but I find myself hitting the speakerphone key all the time trying to clear out of a menu.
A few other things to note
The phone comes with protective plastic coating stuck to it from the manufacturer. I removed most of it, but left the two pieces on both displays. They do not bother me or get in the way and will help make them last a bit longer.
I tend to use my phone as a flashlight, so I changed my external display theme to a much brighter white-colored theme, which makes it a bit brighter when navigating through dark room.
Also, don't run out and buy a USB cable or Driver disk from eBay. This phone comes with the necessary USB cable (for charging and data connectivity) and the drivers can be found on Verizon's website (see link below).
Here are some useful links
Some forum posts I've scouted out
enV3 and BitPim – Also here. – In summary, make sure you get BitPim 1.0.7 or greater for it to work successfully, otherwise, try Bluetooth.