I have been getting the error "Application data space is low" more and more as of late on my HTC Incredible. It's beginning to frustrate me because like an unread email, I have a pet peeve to clear any notifications that pop up on my phone. This one won't go away. Even more so, other device functionality such as Email, SMS/MMS, and software updates cease to work when this error is present. I have deleted many apps, cleared caches and researched other methods when I came across this post:
http://www.zdnet.com/blog/google/is-your-droid-incredible-low-on-disk-space/2163
Out of curiosity, I decided to check to see how much phone memory was getting used considering the fact that up to this point I had "trusted" my phone wouldn't lie to me about disk space. Here's what I saw: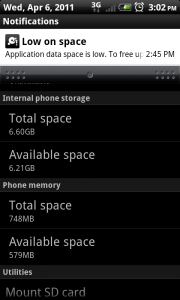 Now I'm starting to get mad. The article states that HTC told that user to perform a Hard Reset. I have already been told this once before by HTC over another issue that seems to have just "gone away"… (I can't remember the exact error but it was something to the effect of "The process com.htc.bg has stopped unexpectedly." and continuously kept popping up randomly and didn't seem to affect any functionality whatsoever. I managed to dig up the ticket to HTC).
Has anyone found a solution to this bug that doesn't involve a hard reset? I hear this problem could result in a bricked phone which I do NOT want. I'm having trouble finding a working fix to this.
Update 2011-04-11
So I contacted HTC with this issue. Here's what I had to say:
According to the [screenshot above], my phone has plenty of available disk space, but I continuously get this error and at this point, I have no idea how to get rid of it. I read an article on ZDNet about this issue and I was wondering if you had a solution that doesn't involve a Hard Reset of the phone. I blogged about it [here]

I have an HTC Incredible updated to the latest version of Android (I think it's 2.2).

Please let me know the solution to this issue. Thanks.
Here was HTC's response:
Thank you for your email regarding your HTC Incredible. We apologize for the issues you have experienced with the available memory space.

If the device is running low on memory, even through it may show plenty of memory available, it is possible that one of the applications on the device is close to its allotted memory limit. To check this, tap Menu while on the Home screen followed by Settings>Applications>Manage Applications>all tab>Menu>Sort by Size. This will place the highest memory using applications at the top. Go through the top 5 listed applications and select Clear Data and Force stop. Note that Clear Data will remove all information from the associated application. Also, when doing this, we recommend that you skip over Contact Storage and Calendar Storage listings as these will remove your contacts and appointments.

If you have any email accounts set up on the phone, you can also try deleting the Mail folder from either the storage card or internal memory. This folder is only able to store a set amount of information and can cause this error if it is getting full. To do so, connect your device to a PC with the provided USB cable. Then select Disk Drive>Done from the Connection Type window on the phone itself. You should then be able to access the phone as a Removable Disk on the computer itself. Locate the delete the Mail folder here.

If the issue is still present, you can attempt a factory data reset on the phone. To perform the reset, press Menu>Settings>SD & Phone Storage>Factory Data Reset. This will remove all data from the device and reload the current operating system. As such, you will want to back up any personal information remove the micro SD card, if present, prior to following the above steps. If needed, you can back up your contacts to the SD card by opening the people application and select Menu>Import/Export/Export to SD card. You should only need to select the Phone contacts as the Google and Exchange contacts should already be saved to their respective sources.
Ok, this is how I read this email: "We're sorry but if you want to continue using your phone, you have delete everything and start over, or disable the features which use memory, which is more than likely the whole reason you bought this phone in the first place."
Anybody else find this response a bit unacceptable?? Ok, so let's just say I follow their instructions. Step 1:
1. Menu > Settings >Applications > Manage > Applications > All > Sort by Size:
So excluding Contacts (and Calendar), the apps left to "clear data" are listed below, along with details on which ones will actually have data to clear (excluding any apps on the SD Card):
1. Facebook for HTC Sense – Yes 17.11MB
2. Twitter – Yes 11.55MB
3. Adobe Flash Player 10.2 – NO CLEAR DATA OPTION
4. Maps – Yes 1.74MB
5. Facebook – Yes 5.80MB
6. chompSMS – Yes 64KB – I have already cleared data on this app (I use SMS Backup)
7. Sirius|XM Online – Yes 2.91MB
8. Square – Yes 364KB
9. Adobe Reader – Yes 8KB
10. Dialer Storage – Yes 5.59MB
11. Geico – Yes 24KB
12. Internet – Yes 5.02MB
13. Speedx 3D FREE – Yes 16KB
14. Quickoffice – Yes 8KB
So if I was to follow through on their instructions and clear ALL the data above, I'll gain a grand total of: 50.2MB… WOW. That should make a WORLD of difference on 8GB of Internal storage. For those not good with math, that's about 0.625% of the entire storage space on my phone. So, what HTC is telling me, that if I clear less than 1% of data stored on my phone it will resolve the low disk space error?? I'm not a super genius, but I know that 50MB on this device is not much at all, and I can probably expect that amount to fill right back up as soon as it's cleared away, causing the same problem all over again. In addition to that, I'm erasing all the data that makes this phone "Incredible". Checking Facebook and Twitter from the palm of my hand!
Ok, so on to Step 2:
I use Gmail on my phone, not Mail (or HTC Mail), but I'll try to find the "Mail" folder and delete it… Hmmm… Well, I have a folder called "Mail Attachments" which has 1 file worth 52KB, guess I could delete those valuable KBs… I couldn't find the "Mail" folder, so I decided to look at the file sizes of EVERY folder on this device. Select All > Right Click > Properties… Ok, 3.48GB total size. Let me see if I can find a "specific" folder contributing to the bulk of this size… Go figure… it's the MP3 directory, with a whopping 2.2GB usage. (Again, this is on my 8GB SD card, not my internal memory)
I was unable to find the Mail folder anyway. Thanks for the suggestion HTC.
Lastly, Step 3: Factory Reset… I'm sorry but this is an unacceptable suggestion from the phone manufacturer. What a horrible solution. The stupidest part of this "suggestion" is they tell you to Backup the things that are stored in the memory… So as soon as you complete the factory reset, you're going to load that stuff back onto your phone and still have the SAME PROBLEM!!!
Why didn't HTC address the fact that this might be a *bug* with this phone?
I decided I'd try some suggestions for the 1000s of pages reporting the same issue, but none of them really "resolve" this issue, it returns quickly.
The only solution is to *CONSTANTLY* clear out the data from the apps that you use your phone for… like Twitter and Facebook.
This seems to me like a software issue. If an app only has an allotted amount of space it's allowed to use, why should I be notified about when it's running low? And why would it prevent other phone activity such as Text messages, Emails, Software Updates, etc? Whenever this error is on my device, it does none of these things until the issue is resolved. So if the Facebook app has too much data, I don't get notified that I just got a new email. I really don't care at all that Facebook's memory is almost full, the Facebook app should be able to deal with that on it's own, not tell me about it and stop all other apps from functioning…
I hope HTC addresses this problem and fixes it. It's really a shame, I like my phone and for the most part, really enjoyed it. I'd hate to have to switch to some other brand… I responded to HTC with the following:
I have completed the suggestions you made about clearing data on my phone. The error went away when I cleared data for Facebook, Facebook for HTC Sense, and Twitter apps, a total of 34.46MB. This makes me a bit uneasy since 34.46MB is not much disk space on 8GB of internal memory. I can imagine that this space will fill back up quickly when I use these apps. Furthermore I am trying to keep up with this issue on my blog [here]

I feel like this issue is a software problem that needs to be addressed. I am unsatisfied with the suggestions provided and would like to request further research/action on this issue. I bought this phone to use it. I don't want to constantly have to be worrying about disk space and clearing the data that I use the phone for in the first place. Do you understand what it means to ask me to clear the data that I use the phone for ANYWAY? If the application has limited disk space, then use all of it and then clear things from the back forward. This is simply something I need to "know" about, not be notified constantly about. Put it in the "help" menu of an app. The disk space warning affects the functionality of my entire device making it useless. And I don't plan on carrying a useless device around with me. I will find something else that works.
Here is HTC's Response:
Thank you for your reply. I understand how this is frustrating for you. Although your device contains 8GB EMMC (storage), very few applications default their cached information to this location. The Internal storage of 748MB is the main location for application and cache data. This is how Android was intended to work. On a side note, the HTC Mail application does store information to and external source, i.e. EMMC or Storage card. I recommend plugging your device into a PC as a Disk Drive and locating the .Mail folders. Delete these folder and you should see more space become available. I do apologize for any inconvenience that you may have experienced.
Here is my reply:
I'm sorry, but I do not feel like this is an acceptable answer. I do not use the HTC Mail app at all. All my email is handled with the GMail app. Additionally, I was unable to locate the .mail folder. What you are telling me is either:
1. I am using the phone/software incorrectly
2. The software was designed in a way that require Factory Resets on a regular basis.

If I am using the phone incorrectly, please explain the proper way to do this, however I bought the phone because it integrates Facebook and Twitter into my phone and daily activities. If you'll research the subject there are hundreds if not thousands of users experiencing the same issue:
http://community.htc.com/na/htc-forums/android/f/91/p/5936/28194.aspx
http://www.incredibleforum.com/forum/htc-incredible-general-discussion/3808-resolution-low-space-notification.html
http://www.htc-incredible.com/troubleshooting-htc-droid-incredible/%27application-data-space-is-low-%27-no-it%27s-not/
http://www.htc-incredible.com/troubleshooting-htc-droid-incredible/%27phone-storage-space-is-getting-low%27/
http://community.vzw.com/t5/DROID-Incredible-by-HTC/DROID-INCREDIBLE-LOW-ON-SPACE-INDICATOR/ta-p/345668
http://androidcommunity.com/forums/f68/droid-incredible-low-on-space-38469/
http://androidforums.com/incredible-support-troubleshooting/183963-low-space-phone-application-storage-notification-2.html

And this is just the first page of THOUSANDS of results on Google: http://goo.gl/qaxZR

Please address this that it IS a problem and needs resolution. It seems like no other Android phones experience this issue like it persists on the Incredible, including other HTC phones.

My phone stats are showing:
System ROM: 260MB (17.4 MB free)
Internal: 784MB (560 MB free)
Internal eMMC: 7.08 GB (6.9 GB free)
SD card: 7.96 GB (4.47 GB free)

If what you're saying that the notification is a result of low space on the Internal 784MB space, I am only using about 20%. So apparently the phone things my disk space is low at or around 25% usage? This seems like a memory read problem. I have not found a working solution anywhere on the internet but the 1000s of other users dealing with this problem. I feel it's time to release a patch for this bug.

What is even more irritating about this issue is that the phone ceases to function while this error is present. So I am not notified of emails as they come in and I'm not 100% certain, but I believe text messages aren't received until the error has been resolved. So what usually ends up happening is:
1. I delete ALL my SMS/MMS Messages (Thank GOD for SMS Backup)
2. Look through ALL my applications for ANY apps still on the phone. If I can move it to the SD Card, I do so. If I can't and it's something I only sometimes use, sorry app developer, but I have to get rid of it.
3. If the error still isn't gone, I'm forced to clear data from Gmail, Facebook, and/or Twitter, the 3 MAIN features I use from my phone (aside from the standard functions of phone calls and SMS)

I'm writing to let you know I'm unhappy about the resolution, I am reluctant to ever get another HTC phone again, nor will I recommend them, because there are about 100 other Android phones on the market that have similar features and hardware specs and do not experience this issue.

On a side note, I'd just like to say the issue above is not the only one that has left me considering replacing the ROM with an alternative. While some of the HTC software that comes bundled with the phone is nice and I use daily, there are others that I don't want to use and may NEVER use. Like Slacker Radio, Skype, HTC Stocks and News. Why is it necessary that these apps are CONSTANTLY running in the background? Thankfully I found an app called Titanium Backup that allows me to get rid of these applications, otherwise I would have been looking for a new ROM or Kernel for sure.